US Tariffs is definitely impacting the US Promotion items importing.
From Today CNN news :The US tariffs start at a rate of 10%, before rising to 25% at the end of the year. They come into effect on September 24, and will apply to thousands of Chinese products, ranging from food seasonings and baseball gloves to network routers and industrial machinery parts
In China exporting, our relative companies exporting goods to their USA customers without knowing tariff charges both sides, bad issue happens. Customer quit goods.
It's a loser situation for suppliers and buyers. Supplier lost customers without warning them,buyers already paid the money to goods. However,the high tariff makes them loss even more than the cost.
https://hts.usitc.gov This site is for you to check the import US tariff. Make plans in advance and avoid loss.
Input the 6 numbers of HTS code to check your item whether impacted or not.
Following example is for suit case and backpack series."General" is to check importing goods from China. We found that the suitcase is with 20% tariff ! Crazy!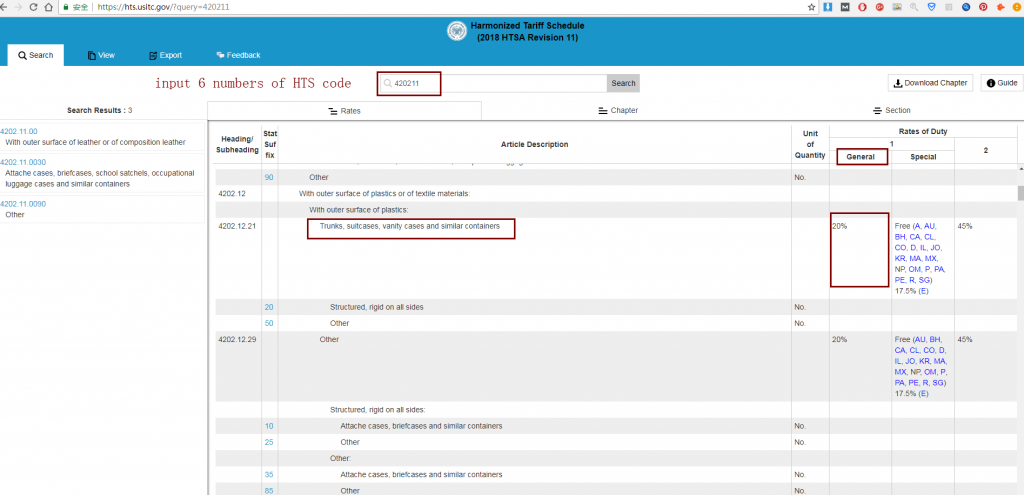 Cups:6.5% ;Of man-made fibers:32%;Jewelry:11%. Although some are not reach 25%,but it grows up more than before. we should take care.
If you're new to business, pls be sure to check and make the right decision.
If above content is helpful for you, would you pls share to your social network to help your friends? Thank you!